Electronic Air Cleaner for AHUs


High quality power supply unit from Japan.
High quality aluminium pre-filter from Taiwan.
Tornex EAC's dc power supply incorporates patented Voltage Stepping Management Technology, to regulate voltage to the filter cell to maintain operation of the EAC, unlike other brand that will shutdown the unit.
Each EAC consists of LEDs to provide operational indication to users.

Single BAS point per AHU with multiple EACs to alert maintenance for any EAC required cleaning or with operational error.
Single power supply line to AHU with multiple EACs.

Comply to CE marking product safety standard and compliance to EMC tests.
Tornex EAC is fire retardant as it is built mostly from metal parts whilst all plastic parts meet class V0 on flammability test as per UL94.
Ozone level produced by Tornex EAC is below allowed limit in many countries.
Removal of the EAC's aluminium pre-filter will deactivate the power supply to the EAC to protect maintenance personnel from high dc voltage.
Each EAC casing comes with localized ON/OFF switch for service safety.


ASHRAE 52.2 CLASSIFICATION
Particle size range (micron)
3.0 to 10.0
1.0 to 3.0
0.3 to 1.0
MERV 13
> 90%
> 90%
No Requirement
MERV 14
> 90%
> 90%
75%
MERV 15
> 90%
> 90%
85%
 
Tornex Electronic Air Cleaner (EAC)
Particle size range (micron)
3.0 to 10.0
1.0 to 3.0
0.3 to 1.0
Tested per ASHRAE 52.2
97.7%
93.9%
77.4%
Report number:2011A072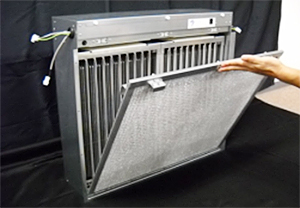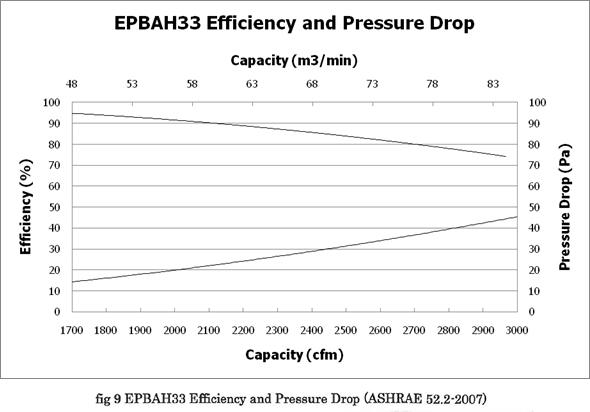 EPBAH31 (1 cell)
EPBAH32 (2 cell)
EPBAH33 (3 cell)
Electrical Rating:
Voltage and Frequency
200-240V, 50/60Hz
Electrical consumption
18 W
26 W
34 W
Current draw
0.1 A
0.14 A
0.18 A
Ionizer voltage
DC 7450 V
Collector voltage
DC 4100 V
Temperature Rating:
Operating Ambient
4-50℃
Temperature of Airflow
4-50℃
Maximum Cell Washing Temperature
60℃
Weight:
Electric Cell (each)
4.4kg
Installed Weight
(each cell quantity included)
10.2 kg
17 kg
23.8 kg
Capacity, Efficiency, Pressure Drop :
Refer to each graph